Epic Games Unreal Fellowship v06 summer 2021 – once in a lifetime!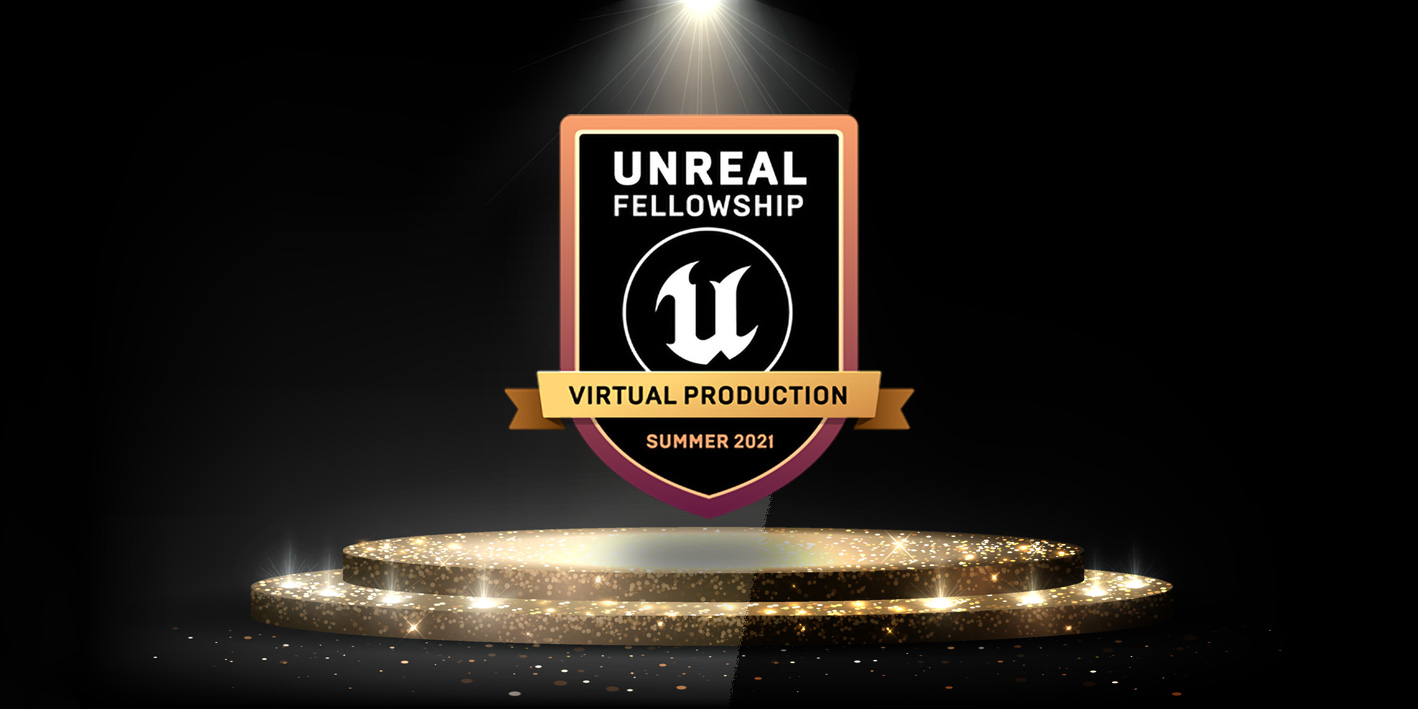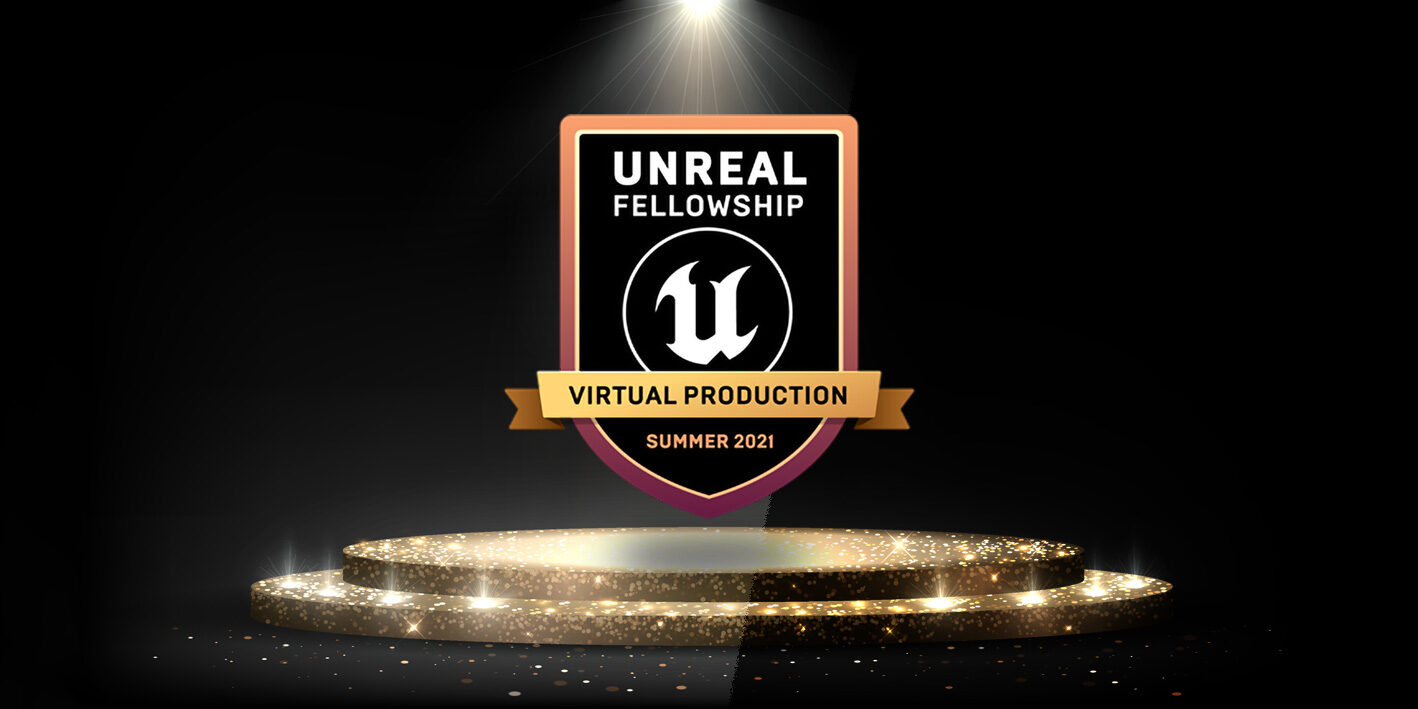 The 2021 summer edition of Epic Games' Unreal Engine Virtual Production Fellowship kicked off this summer. The Los Angeles-based Fellowship featured select individuals who learned first-hand, in a 5-week bootcamp, the tools to create professional film productions using the Unreal Engine Virtual Production toolset. This was a revolution of the entire process chain in film production!
From our INCAS Unreal Engine Trainer (UAI) team, Sven Esch was the only German participant at the start and we followed him!
Let's give Sven a chance to speak:
"Today is Day 1 of my Unreal Engine Fellowship and I'm super excited and curious at the same time about the 5 weeks to come. Lots of new knowledge that I will experience together with a good 70 other people coming from all over the world. Only the jetlag remains, because the Fellowship takes place in Pacific Time, which after our time always goes deep into the night…. but it's worth it!!!
Awesome !!»
Half time in Sven's Fellowship "Bootcamp"! In the meantime, he had adjusted to the shifted daily times and was still receptive at half past twelve in the night. And yet he was under constant time stress, because after all he had to produce an animated short film in the 5 weeks.
Thank God he now had new technology and a computer to support his "crazy" ideas.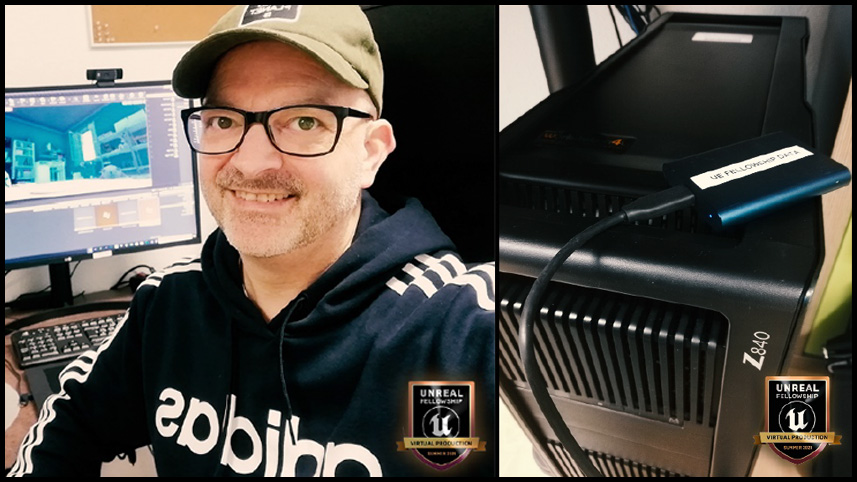 Let's read his report at the "halfway point."
"I have set up a timing chart for my project so that I can keep track of the time. At the moment, I'm still on a good path, but not much should go wrong or take longer. We have so-called "scrums" 2x a week, in which our mentors are available to answer questions about the content, but also constantly instruct us on when we should have finished what in our project.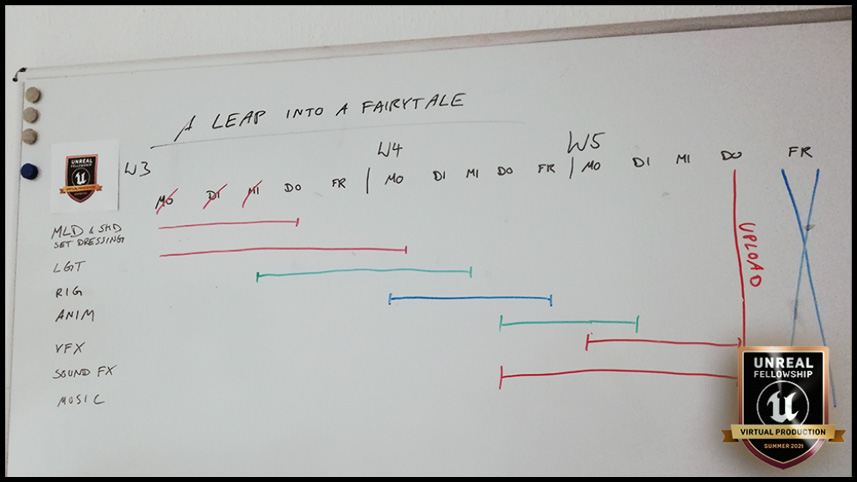 At the beginning of week 3 we had something very special: We were connected to Zoom 2 motion capturing studios and we could give instructions to the actors for MoCap data that we needed for our project. You can't even think about the fact that some of the people are many thousands of kilometers away from each other – wicked technology… and fascinating at the same time!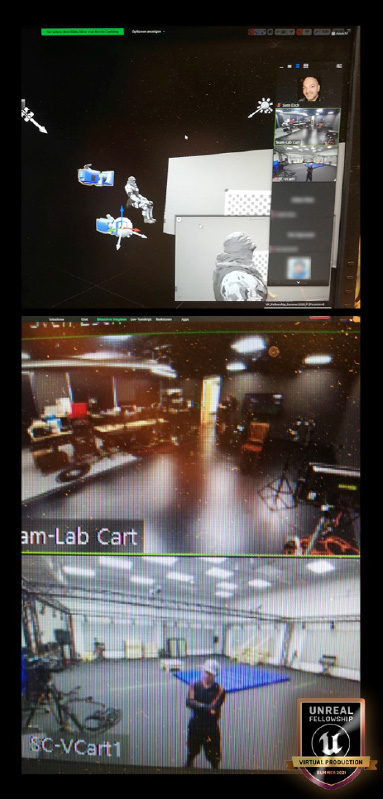 Most movies will use Epic's "Meta Humans", at least their heads. "Meta Humans" is Epic's attempt to integrate realistic human characters into Unreal Engine. This already works quite well, the more than 800 joints (movement points) can be "tracked" e.g. via apps in the I-pad.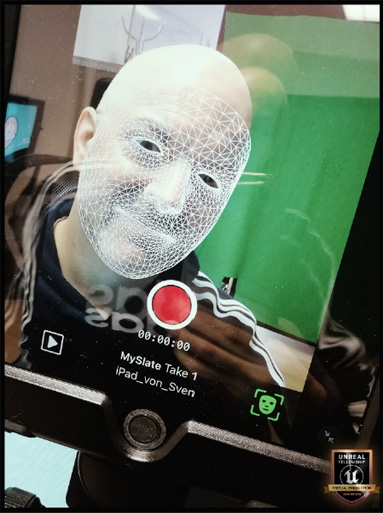 Last but not least, I have to say that I'm still totally "flashed" about this exciting time and the many people encountered on a daily basis – even though I now often catch myself adopting many English terms in my constant word usage – hurray for Anglicism!"
Epic Games Unreal Fellowship v06 summer 2021 – once in a lifetime!
Week 4 almost feels like the final week, because you're running inexorably towards the finish line. It's all about cinematics like Take Recorder & Sequencer, because in Unreal Engine you can actually create movies as a whole like in an editing program. I notice that my head gradually reaches the input maximum, because in addition to the learning workload, you also have to bring your project to completion. I've reduced my regular life to a minimum, I really only use my free time to sleep and relax…and yet everything still feels so "cool".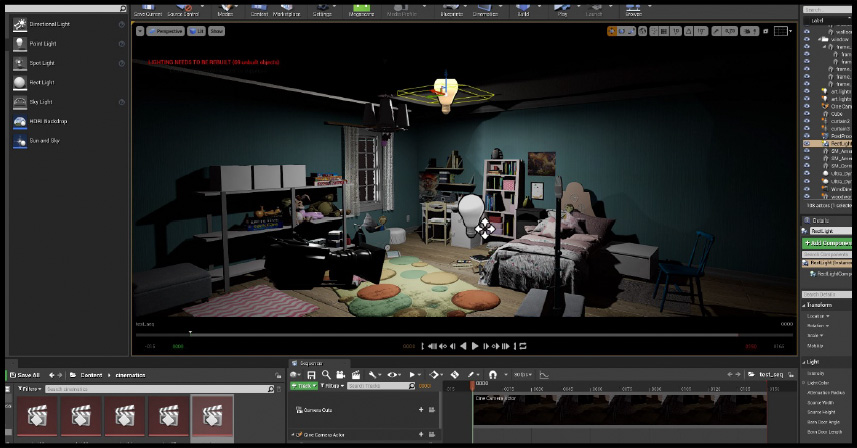 Weeklies" are scheduled again at the end of the week. At the weeklies, 4+1 people per mentor group present the current status of their project and have to face criticism and suggestions from the entire group of participants as well as from Brian Pohl, the Master Instructor. I am on Team Williams and this time scheduled as the 5th man or reserve.
By the way, my project is called "A leap into a fairytale" and deals with the Wizard of Oz. Only with the tiny difference that in this case you are not whirled into the land of Oz by a storm, but Oz finds its way into our reality.
But there was not enough time on Friday, so my project will be discussed on Monday of the following week. Lucky for me, then I can still make a few finetunings over the weekend. In addition, the music for my project was sent to me late Friday evening, which I can then already integrate.
After dedicating this weekend to my project, I was thrown right back into reality on Monday: My removable disk reported an error and part of my work was unreadable. I still thought "oh from Sunday to Monday, what should happen there" and didn't make a backup. Now I'm back to where I was on Friday – bummer! Lesson learned!
We are now already in the final week, by midweek everything should be ready except for minimal corrections, according to our mentor. I realize that time is really tight now and do something that I last did at the beginning of my self-employment – Camp Düsseldorf is open, but at least now I have a sofa in the office.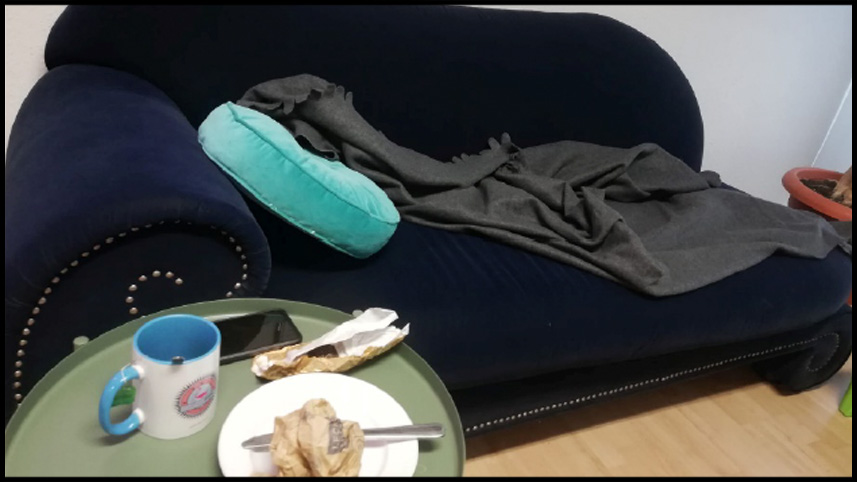 It's Thursday, I actually finished my film except for a few small things and I'm extremely happy that they even voted my film into the Unreal Fellowship Film Festival. The film festival is the final event, something like a prom.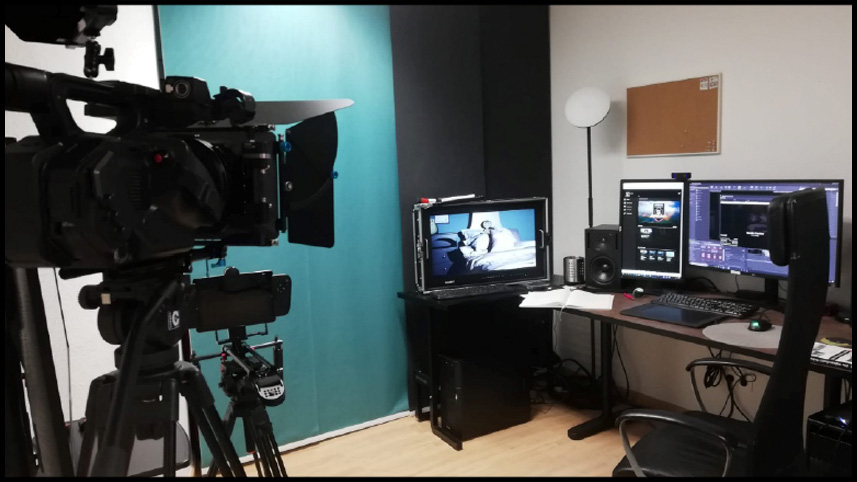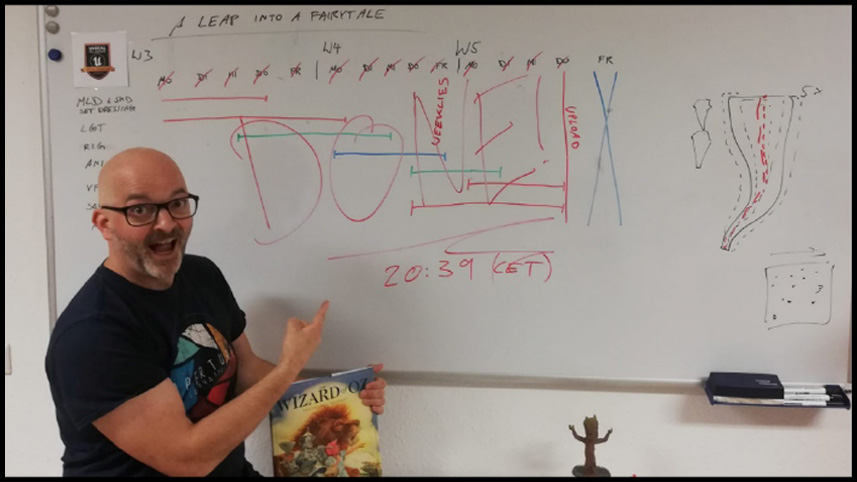 Friday, September 3, 2021 – THE BIG FINAL!
This day is the last official of the Fellowship. Only the festival will take place. Some have dressed up a bit (Tuxedo and so ????) and the virtual "red carpet" is also rolled out.Today we will watch the selected films of each group. Man, am I excited! I've seen so many great works of the others already and I'm curious what they will say about my little fairy tale film.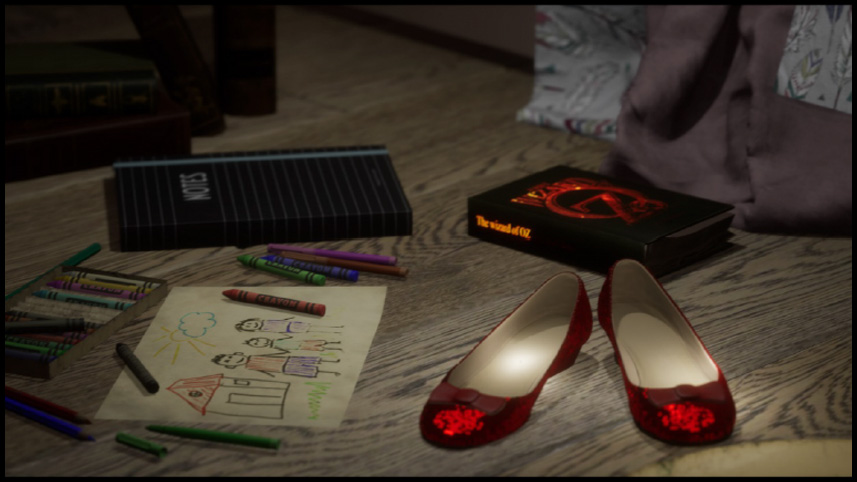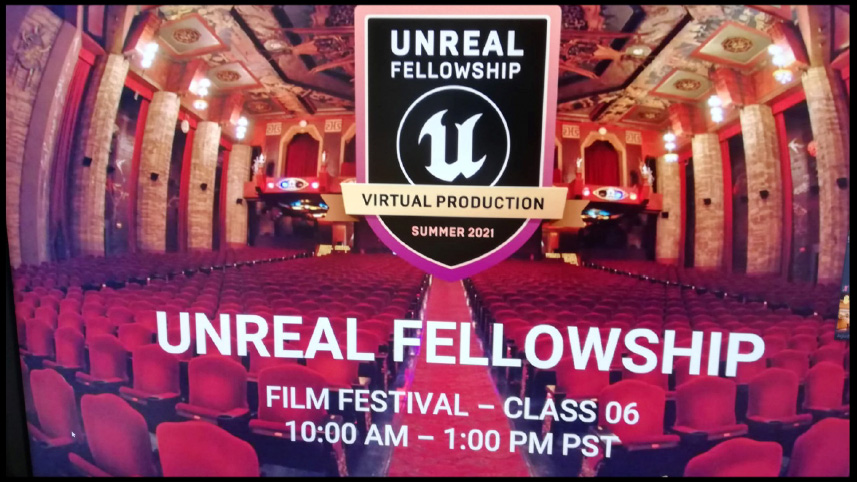 My film was the third last of the festival, in the meantime it had become evening in Germany and I went directly to the aftershow party part. My film touched many people, because it is "so different" from the others. Hardly any metahumans, but a lot of feeling and story.
It's time to say goodbye to all the people who have accompanied me daily over the past weeks. But it's not goodbye forever, I've already been invited to Dublin or even gladly to Toronto or LA. An exciting time that I will probably never forget, and one thing I must never forget:

NOW I CAN UNREAL ENGINE!
Kontakt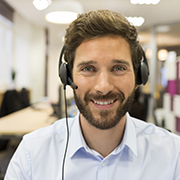 0800 4772466
info@incas-training.de
"*" indicates required fields